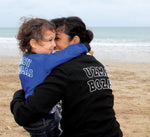 With a passion for colourful embroidery, beading and an eye for the unusual, we were thrilled to discover the Uzma Bozai collection for Spring Summer 2017.  Uzma was born in New York and finished her education in the UK.  Her brand has been worn and snapped on many A-listers from London to L.A......much to the dismay of her young daughter who keeps asking if they've given them back yet!
Inspired by her travels in northern Vietnam, Uzma decided to invest in beautiful vintage skirts worn historically by the Dao tribe, also known as the "jungle people".  Their lives and traditions have changed little since they were first observed by colonials in the 1900's.
Each tribe has it's own distinctive colour palette, ranging from purples, yellows to reddish orange.   Every piece is individual and wearers should enjoy owning a piece of history which has been lovingly created over centuries and depicts an amazing set of traditions.
Heny dress in yellow - my favourite piece for a happy summer;)