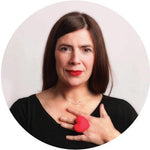 We met at The Marylebone Hotel last year for a coffee....4 hours later we were still "gassing" I managed to fall madly in love with Melissa's jewellery, her sense of purpose and her Dublin accent - the same as my "mammy"!
Too modest to tell me - but I read that Melissa first launched during Paris fashion week in 1999 and was selected by Liberty of London to spearhead their Millennium Jewellery Collection. Can you imagine?!
she continues "All of sudden I was on huge billboards all over the world. My work was in demand and before I knew it I was selling globally. Working with the likes of Philippe Starck (at Bon), Swarvoski and Absolut, it was hard to believe, but I was living my dream".
"In a nanosecond my path took me from the dizzy heights of a glittering career in Paris to being a broken, single mom of a very sick little boy. Yes, I crashed at the bottom. My little boy, who was born premature, had multiple health complications and I found myself isolated, unable to work, and in a financial downward spiral. I was suddenly confronted with the reality of women all over the world, who suffer, then survive, for it is their only option…to succeed".
Melissa is a multi-talented designer - the BYOS collections are delicate and hold sincere messages.  Whilst the Melissa Curry pieces are spectacular and create conversation.
Melissa will be with us for our launch on Wednesday 8th March 2017 from 2 - 9pm!
hope to see you too...
Helen & co. at NELLIE & DOVE