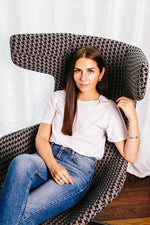 Meet Laura Vann from V Jewellery on Friday 5th May 6 - 8pm at Nellie and Dove, Deddington Marketplace and see how she begins the design process in technical drawings. 
Laura Vann's jewellery had us besotted at London Fashion Week.  An island in a sea of lovely jewellery brands, it was the rich art deco influence combined with the delicate details and colours that has made V jewellery a huge hit with modern women transition from throwaway to fine jewellery.
Laura founded V with her father Timothy in April 2013 after he employed her to work for his pre-existing jewellery company. While studying in London, she noticed a demand for timeless, vintage jewellery.
"I often saw friends wearing incredible pieces that were either one-offs found on the Portobello Road, or designer pieces with a price tag to match. I saw no brands in the jewellery market that were accessible in terms of availability or price to young women like myself."
Laura looks to the past as her source of inspiration when designing the V collection, while her young perspective added a contemporary touch and breathed new life into historical jewellery. Analysing shapes, genres and movements, she uncovered vintage inspired styles that had survived the test of time; their beauty affirmed by their longevity.
TODAY
Today V's award winning collections are described as a breath of fresh air to the market. Counting Katy Perry, January Jones, Aluna Francis and FKA Twigs as clients and including Kabiri, The Shop at Bluebird, Nellie and Dove and Fortnum & Mason amongst their list of fashion forward stockists, V is rapidly establishing itself as the it jewellery brand for the it girl. The Sterling Silver designs are carefully hand set with dozens of stones, including precious and semi-precious, before being placed in their own minimal matte black gift box. It is this combination of quality, modernity and a timeless aesthetic which ensures that a piece of V will be adored for a lifetime.
V   J E W E L L E R Y