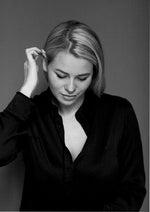 Talented Florence not only designs and produces a collection each season, she also paints the artwork, which is digitally printed onto pure silk.  The colourful swirls of turquoise, pacific blues and deep navy attracted us from a distance.  
Florence made her fashion debut 2 years ago, armed with a few years industry experience and her first class degree from Nottingham Trent University and The Fashion Institute of Technology in New York.
Launching a successful brand with the entire production process being on home soil make Florence Bridge a designer whose progress we are thrilled to be a small part of.
Join us to meet Florence in store next Friday 9th June 6 - 8pm.  She will demonstrate how she creates her artwork.  We are expecting Florence to still have her pink hair and be wearing a gorgeous combination of silk and shearling - very "Florence".
p.s. she has also dressed Ella Eyre:-)