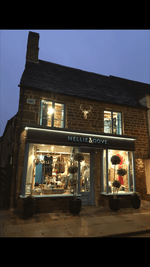 On Thursday 8th March, we are officially a year old! 
It's been an incredible year of 'firsts'....here are some photos following our exciting first year, along with some before and after photos:
upstairs - 'before' (August 2016)
upstairs - 'now'
FIRST 'REAL' BUYING TRIPS - LONDON AUGUST 2016 - attempting to look professional;)
then on to London Fashion Week....(just a little intimidating)
First Fashion Show - Xu Zhi - Armani Theatre, Milan, Feb 2017
First Shop Window display....Jane had nightmares about trying to wrap this lot up!
FIRST of our many EVENTS - Meet the Designer - Uzma Bozai
First photo we were really pleased with:)  Go Wendy!
First Ducks to waddle in.....
First time with my husbands legs on!
FIRST TIME WE'D SEEN A 'POSING WALL'  Florence - June 2017
more poseurs;)
First time for a Mr. Whippy machine in a boutique - whose ridiculous idea was that?!
Lots of dogs come shopping, but Dennis was our first pug and he did pee on the rug!
First time our bag seen boarding a private jet!
(....honestly)
Buying for SS18 in Paris...we had just seen a huge rat!
discovering an uber-cool new brand in Paris....Jane Rockin' it too....
More events back at the ranch....
or should I say 'Farmhouse' 
Pop-Up shops in both Oxford and London
While Deddington doubles in size....a few before and afters here:
shop without hats - 4th October 2017
shop 1 week later!
6 weeks later....
First time to 'cut the ribbon'
menswear arrives too...
first Christmas to gift-wrap for
looking good:)
many more rainbows ahead......