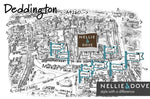 On the Eastern edge of The Cotswolds sits the pretty Ironstone village of Deddington.  A perfectly formed Marketplace at it's heart, Deddington has been my favourite place to frequent for decades.....
Easily accessible from the M40 (J9, J10 (best = 10 mins) and J11), Bicester or Chipping Norton are reached in 15 to 20 minutes (they're in opposite directions), with Oxford 25 minutes (south), and Stratford 35 minutes away (north-west). Aynhoe Park and Soho Farmhouse are just a few miles away.  
Deddington Marketplace is special for many reasons and here is what's in it for you....as welcome visitors:  
Alongside Nellie & Dove, we have a destination Art Gallery, a delicious, well stocked food hall from 'Eagles' a well known Butchers and Caterers, a 6 room Beauty Salon to rival the best in London, Quaint Flower Shop and gift shop, 4 Pubs, 2 Hotels, 4 Hairdressers, a Picture Framers, a bespoke Catering business, a popular Deli/Cafe, 4 Restaurants, 3 Takeaways, 2 Estate Agents, 2 Lettings Agents, the best Builder in the UK (aka my husband www.spencerbuilders.co.uk), free parking, lots of lovely walks, a Norman Church (hosting many functions and concerts),  a Library (yes, really - we still have one!), a Health Centre, Dentist, Primary School, Vets, Car Workshop, Builders Merchants, monthly Farmers Market (4th Saturday 8 - 12), Post Office and perfectly stocked Co-op with Cash Machine, a Gun Shop, Bicycle Shop, his n hers dressing gowns (Joke!)
Last but not least, 2 independent Boutiques - Jocy (on the main road) and Nellie & Dove - we're in the Marketplace - aim for the church and we are opposite.
We are offering weekly pop-up opportunities too, no strings attached, just a helping hand to launch your own brand/venture within our shop, e:helen@nellieanddove.co.uk to spread the joy:)
Here are the links to many Deddington business websites and Deddington on-line in case I've missed any (a thousand apologies).  I'd highly recommend their photo gallery - see if you can spot Nellie & Dove's building through the decades....
Deddington on-line = http://www.deddington.org.uk
The Deddington Arms Hotel = http://www.deddington-arms-hotel.co.uk
The Unicorn Hotel = https://www.unicorndeddington.co.uk
The Crown & Tuns (pudding face the pie place) = http://www.crownandtuns.co.uk
The Red Lion Pub = http://www.deddington.org.uk/directory/entry/red-lion
Cedar Therapy: https://www.cedartherapy.com
EAGLES Food Hall & Caterers: http://www.eaglesinfood.co.uk
Otters Restaurant = https://restaurantguru.com/Otters-Restaurant-Deddington
Excellent Private Event Caterers = J & J Catering = jjcatering@therickmans.co.uk
Foodies Coffee Shop = https://www.facebook.com/FoodiesCoffeeShop/
Wychwood Art Gallery = https://www.wychwoodart.com
Dragon Framing = http://www.dragon-framing.co.uk
Deddington Antiques Centre = http://www.deddingtonantiquecentre.co.uk
Bengal Spice = http://www.bengalspicerestaurant.com/Bengal_Spice/Homepage.html
May Fu Tu 
NELLIE & DOVE = 
Walks around Deddington are listed in detail via this link = http://www.deddington.org.uk/community/guides/countryside/circularwalk
The Saxons created Deddington Castle and their growing community managed to form our lovely Marketplace - avoiding the main Roman Road (A4260 which runs a block adjacent to The Marketplace  - a genius bit of town planning on a scratched rock - that we all appreciate when singing Carols around the `Christmas Tree' or shake a welly at Deddington Rocks.  
Visit soon - Helen, Jane, Susanne & Wendy at Nellie and Dove xxxx