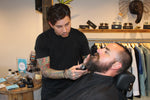 Tuesday evening we waited excitedly for the arrival of Thiago from ROYALS barbers in Chipping Norton for our mens event that evening.
Helen wasted no time in getting comfortable in the chair, sadly her beard growth was not enough!

First up: we watched Steve in the chair (slightly nervously….Helen hoping her public liability insurance was enough;)
 Thiago applied the first coating of a deep rich lather of foam.  Next hot towels were applied over the entire head and Steve's identity slipped away under the concealment of the many layers.
Gasps could be heard as the knife flicked open, deftly glided and manoeuvred over his face at different angles to ensure the closest of shaves. 
Finally having applied a gently massaged facial oil… Steve emerged relaxed ready to face the world and Hugh took to the chair contemplating his fate.
Once the shaving was complete Thiago was tasked with a beard trim.
Looked on by the concerned wife....

Another successful event and no accidents!