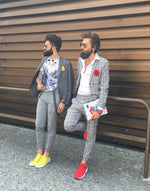 Menswear Buying in Florence, Italy:
Twice a year Florence hosts Pitti Imagine in the historic grounds of Fortezza da Basso.
It's a Mecca for all buyers, designers and their models - the place to be seen!.  Our first encounter, a group of 10 immaculately dressed Asian men beautifully attired as English country gentlemen.  They gathered outside the palace walls, before the show opened.....and the bloggers went into a frenzy!
Entry to the show is not for the feint hearted, registration required numerous documents and checks prior to arrival, followed by queuing Italian style and paying for the privilege of entry. Once in we were full of excitement at the prospect of our first menswear show and rather overwhelmed by the shear size and number of exhibitors. Comfortable footwear on, and loose clothing check,  we set off in the 36 degree heat.  Our plan to navigate around the show and come back to designers of interest quickly evaporated as we became absorbed in the many new brands on offer.
 First distraction a clever new concept of T shirts, no logos required, vintage photographs digitally printed onto textured fabric adhered to the most luxurious t-shirt, limited editions and presented in a gift box (talented German innovation and quality). 
We surprised ourselves by getting excited about a sock brand - geometric knitted designs based on the interior details of buildings in New York. 
Lured onto another stand by a seersucker suit, we discovered an emerging new talent from New York, we simply had to order on the spot.
Around the corner, a feast for the eyes from a Spanish brand using traditional Scottish weaves onto heavy weight linen. 
A quick pit stop for lunch with a glass of wine, whilst watching how many Italians it took to put up an umbrella (4 ;-)
We braced ourselves for the largest building.  The number of shirt companies was overwhelming so we waited to be overwhelmed by the shirts themselves, we soon struck gold with Italian shirt company Poggianti.
 As our order book began to fill and feeling rather weary we were soon reenergised with huge pistachio ice creams, it was then we encountered "the posing wall".  A wall stretching more than 50 meters encased in cedar wood complete with metal perch upon which the most stylish and attractive fashionistas posed whilst being adored by the many cameras that surrounded them (including ours!)

The first successful day completed, we collapsed for the evening at the amazing restaurant Le Menagerie.
Day 2: Acclimatising to the heat, we confidently strode back to The Palace.  First discovery of the day - Capobianco - simple Italian designs, environmentally aware production and beautiful fabrics, their clever uses of materials include nettle, yes really and no it doesn't sting, in beautiful colours.

Our favourite knitwear brands were both a family run Irish company specialising in knitted linen blends and Scottish cashmere in classic styles.  Transit for men was a lovely surprise and following on from our success with the women's collection was a must!  
Feeling slightly baffled by the sizing in menswear our minds were quickly put to rest by some trying on sessions with very helpful, extremely good looking Italian men, part of the job, honest.
We didn't order this - but had to include the photo!  If only the beards were for sale;)
More orders followed and we quickly dashed to the train station to negotiate the Italian railways back to the airport.
Landing in the U.K and returning to Nellie and Dove we have begun to put together our first collection for men, Mr Nellie and Dove, which will launch in mid to late January 2018.
Wendy Sandford x