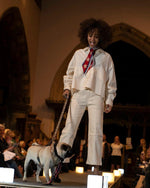 Deddington Church was transformed earlier this month…..in to a Charity Fashion Show venue for us to show our fully styled Autumn Winter 2018 Collection.  
110 Guests - all VIP's at Nellie & Dove, arrived looking uber stylish themselves:)   
LFW (London Fashion Week) would turn green with envy at this venue - a raised catwalk, with individual oak chairs facing it.  Guests well watered - mini Prosecco bottles, beers or G & T's with straws, plus a full running order programme & pencil to tick your favourites ;-)
Ticket sales raised over £1100 towards a new church organ and local charity 'Let's Play Project' Banbury who support over 100 families with children and young adults who have extra additional needs.  
Shirley from Let's Play explained their goals and activities and Helen started the show with "It's SHOW TIME!".  
Lights adjusted, funky music started up and the non-stop show received smiles, claps and lots of ticks for almost an hour.
Here's a snippet of the show:
and a special feature 'boarding school attire' was included....
The shop was packed after the event!
Thank you for all your enthusiasm:). 
Helen x
Our next fashion show will be in the church, on Tuesday evening 12th March 2019.  Tickets are first offered to those on our mailing, so please add your email address to the box on the bottom right of the website front page or keep looking at the website or pop in to the shop.
______________________________________