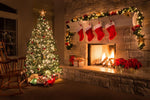 It's not too early!  Some of us have our trees up, ours is decorated with socks :)
This week Jane has been busy putting up our Christmas lights in all the shop windows. Cynthia has been filling our cake stands, with gorgeous gifts. Susanne has been adding more lights...we are now at 6000!  LED obvs :) 
I played George Michael - Last Christmas...and it's not even December!!!
Take the Soap Operas, for example, they filmed their Christmas scenes about 2 months ago and have already celebrated new year. Emma Barton who plays Honey from Eastenders, said "I have had 3 Christmas dinners today!" We hadn't even had Halloween yet! I digress. 
We hope you're getting in to the spirit, and spreading some cheer, sing it loud for all to hear! (I love Elf, Sorry, I have 2 small children, I am very excited about this time of year) Have you chosen anything from Nellie & Dove, we would love to see!
Florence x