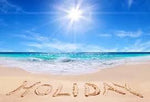 It is so exciting packing for a holiday!
Here's our top picks for a creaseless, lightweight and funky selection to fill your suitcase:-) 
Lets start with these reversible Animapop dresses, with two different prints you could wear it over two days and no one would know ;-). For the cooler evenings having a pina colada accompany it with a beautiful jacket (also reversible) So lightweight, and easy to store, you can just roll it up and pop it in the little bag provided... More space to fill your suitcase
Different designs are available.
If you are taking a walk on the beach, or sitting by the pool, this is a great outfit for an afternoon of reading in your sun lounger from Sluiz. Ibiza. Why not try our A. Kj sunglasses, which have just arrived, for only £28!
Different styles are available.
Shoes!
You can't go on holiday without a beautiful pair of shoes!
How about these lovely Velvet rope edge sandals from Gia Couture with beige velvet ribbon ties, perfect for those evening chilling by the bar, listening to some live music with a sangria in your hand ;-)
Or these extremely comfortable flip flops by Ilse Jacobsen, in different colours from fluorescent yellow to a deep red, with just a hint of glitter on the top. 
Im going to throw something into the mix, and I just think it is so unusual but it just suits us down to a T...
How amazing, the creativity and imagination in this particular dress, who'd have thought soaking some boiled eggs in some beetroot juice creates such a lovely pattern... am I overselling it ? ;-) 
And whats a holiday without a decent sized bag to put your suncream and all essentials in than this perfect straw bag, which also comes in red to match your egg dress!
These velvet pouches are perfect to carry those personal possessions, designed by Pink lemons, these pouches come in green leaf and blue spot.
The options are endless, take a look on our website or come and visit us in store and say hello :-) 
Enjoy your holidays wherever you are going!