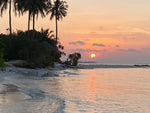 Helloooo!  so today is January 15th, 2022…..also day 14 out of 14 for my husband Richard and me, we've been isolating separately after I tested positive in a PCR to fly home from The Maldives on 3rd January!  It's been a rollercoaster of a fortnight and my amazing shop team are encouraging me to write a blog (cringe) so here goes:
4 of us travelling to The Maldives had our PCR tests on 23rd December  I was half convinced I had a bit of a sore throat, but I also get paranoid before a PCR, so when the results were negative I had a confident spring in my step and let the excitement gallop ahead!
We arrived in The Maldives early morning of 28th December.  It is the most magical vision with hundreds of tropical islands and the 30 minute noisy sea plane flight with the windows open is such a hoot! 
Our island resembled a tropical jungle with only some buildings visible and they appeared to be overlapping thatched circles….think big hairy pom pom's, I felt at home :)
It was 9am and our rooms were ready!  Gorgeous over water villas with jacuzzi baths, private jetty's in to the sea…and our own Butler 'Aanim' - legend!  Whilst we quickly unpacked….I realised that my usual careful packing system had gone out the window during such a busy December in the shop as I have never before forgotten my trusty massive hairbrush!  Hey Ho, but can my husband cope with his petite hairbrush being hijacked with my hair tangled in it?! 
Day 1 is also memorable as it was our first visit to the huge infinity adult pool.  There were loads of free sun beds, each with neatly rolled towel to invite you, but only 2 in the sun, so whilst I felt a little intrusive…a lady was on the next sun bed - we plonked ourselves down, sun-creamed up & ordered a couple of G & T's  (the girls were off shark spotting;-))  The pool waiter later chatted with my neighbour (she was English & well tanned) and Richard overheard her say she'd been on the island for 21 days!   When he told me later, we were saying how bizarre to spend 3 weeks on just one island with so many others to choose from.  Little did we realise that we would soon be in her gang :-0 
So, after a fabulous few days relaxing & occasional dinners with our daughter Poppy & her friend Hebe, (I'll include a few photos….which unfortunately don't include the cockroach who joined Hebe as her hair accessory during our beach BBQ dinner,  Hebe - you were very brave!)
New Year arrived, which we're not normally excited by - unless we or close friends are having a party, so it was really amazing to see the incredible efforts a tropical island resort will go to for a spectacular New Year's Eve.  Luckily we chose to go for dinner around 9pm, as at 8pm the clouds dumped Monsoon style and apparently caused chaos for 5 minutes!  Local dancers, bands, ibiza DJ's, lighting displays on the sea and at midnight, amazing fireworks -  well done Maldives - truly memorable!
Our homeward PCR tests were booked through the island for Sunday 2nd January, we were flying Tuesday 4th Jan.  All of us feeling healthy, confident and relaxed…..then the villa phone rang at 7am on Monday 3rd January…."hello Mrs Helen, this is the island doctor (Dr. Luther King;-) and I'm sorry to tell you your PCR test is positive, so you and your family have to isolate on the island for the next 14 days….separately from you…we will collect you later, do not leave your accommodation."   WHHAAATTT!!!
Good job we didn't have a swear jar….and luckily I'm married to the most positive and chilled out man I've met -  "you haven't got covid….I'm not worried".  Our daughter and her friend were so excited at the prospect of being here - in isolation for another 2 weeks…..Hebe had exams to welcome her back to school and Poppy just wasn't really enjoying school either, so that made me feel better….but even so, I challenged the doctor about my close contacts and 4 hours later he agreed the girls hadn't been close enough to isolate and could leave the island as planned.
Saying goodbye at a distance.....
They made us a great leaving card....and we mugged them for their remaining suncreams, books, games, etc.
For me and Richard, we had no idea what to expect…..I had visions of miniature hotel rooms with no balconies(?) air-con (?)….praying we'd have wifi !!!.  We kept trying to work out on the island villa map where they may isolate us….. or in the middle staff block zone?!  They said we had to isolate separately,  I didn't have to test again, just complete 14 days isolation, whereas Richard had to test on day 7 and 15.  if both tests were clear and no symptoms, we could leave, but if he was positive on either test, it would add 14 days to his isolation.  It would've been so much easier if we'd both tested positive at the same time!
Richard was collected at 3pm by 2 men fully PPE'd in 2 plastic covered golf buggy's  - think Ghost Busters on a golfing weekend.  It felt really terrifying & he said everyone they passed looked on in horror as they made their way through the jungle to his new room!
A few minutes later a bottle of champagne arrived - OMG, how adorable and thoughtful!  But still, I couldn't eat/drink…or stay off the toilet for long!
I was on the phone a lot….family, insurance, airline, shop.  Everyone was so helpful.  Richard Facetimed me from his new quarters….. "Hellooo!"  a beautiful and huge deluxe family beach villa with 3 circular overlapping buildings, a private back garden and front sunbathing terrace & I'd be in the one next door....Happy Days!
We had a natural hedge between us that only needed a little pruning (!) and a view of the sea.  We felt so fortunate.  Our neighbours (American & Italian) were all in the same situation and none of us had any symptoms. 
Hearing the girls sea plane take off was a really sad moment, but once they'd arrived back in the UK we soon settled in to a routine....yoga, aerobics, shower, sunbathe, water fight through the hedge(!) read, play cards, office work, wine, dinner, FaceTime, TV....repeat! 
We were counting down the days and had a mini celebration when Richards 7 days PCR was negative....
So, whilst we felt very fortunate to be in such beautiful surroundings, we were also really anxious to try and get home in time for our twins 18th birthday on 18th January and it wasn't looking hopeful until the government reduced the isolation period (I think they were running our of rooms) so I was back in my office (!) organising new flights, etc.....
We plan to spend our final day here tomorrow (Sunday 16th) by the adult infinity pool and announce loudly we've been here for 21 days!  See if anyone looks up with a furrowed brow?!
See you soon & thank you for holding the fort together…..
at home: Mum, Fred, Bonnie, Poppy, Otis & Denise
in the shop: Jane, Susanne, Cynthia & Florence xx
Helen & Richard x
p.s. we made it home on 17th January, in time for Bonnie & Poppy's big birthdays!
p.p.s. this teeny Gulf Air hair brush has grown on me.....
its soooo good to be home! Helen x