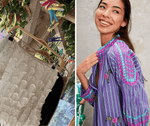 1. Start by trying to double the number of "wears" per outfit.  
2. after each wear, hang the clothes apart in a ventilated room, or outside on a washing line.
3. wipe away any obvious marks or spills.  
4. freeze clothes! Put them in a sealed bag this help eliminate bacteria and odour.        
5. hang in your shower room to revive or blast with steam from a steamer or iron.          
6. take care with seat belts… if you drive a lot, they cause a stress friction at the waist/buckle/zip area (often the blame for tiny holes appearing at the belly button) maybe place another piece of fabric to sandwich/ease the friction.                           
7. wear your clothes! don't save them for best, wear your special outfits often, but the minute you get home, hang them up, put on your PJ's!
9. wear an apron while cooking to prevent from the obvious oils and bits of food also helps with food odours and helps protect friction from the belly button area.
10. buy less, choose well and make it last... Shop at Nellie & Dove ;-)
Here's our basic guide on how often item may need a proper wash;
Tops, T-shirts & Dresses > After 2 - 3 wears
Knitwear > After 3-5 wears
Exercise Clothing >1-3 wears (depends how much you sweat)
Trousers > After 2-5 wears
Jeans > Weekly, monthly, ideally freeze!
Socks & Underwear 
 > After EVERY wear
Bras > Every 3-5 wears
Jackets > Every 1- 6 Weeks
Coats and Outer Wear > Monthly or longer
The more you wash, the more quickly you wear out your clothing.
90% of the energy used in most washing machines is in heating the water, so you are better to wash at 20 degrees on a full length cycle than 30 on a shorter wash! (i've been watching a lot of morning telly ;-)
sign up for our weekly newsletter here