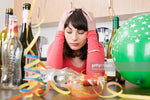 Here's our top tips to start another decade - in style and comfort ;-)
NUMBER 1: Have a longer lie-in with our Alice Caroline eye mask!
NUMBER 2: Soak in a tub with MAKE Skincare
start with BATH FOAM, entirely natural and with essential oils to rehydrate.
NUMBER 3: Wash off last nights make-up remnants with a SEVIN LONDON wash mitt
NUMBER 4: massage MAKE'S face refresh toner
with waters of rose, geranium and lavender.
NUMBER 5: followed by FACE SMOOTH intense moisturiser, 
known for its plumping action and vitamins A and C, in a honey scent.
NUMBER 6: ring a bell to request your warm SEVIN London bubble bath towels be ready to receive you!
NUMBER 7: moisturise your body with SEVIN's pure body lotion
NUMBER 8: pick an over sized jumper, some great Christmas socks, a furry leopard throw and find the sofa and settle down to a repeated episode of F.R.I.E.N.D.S :-)
also online you'll find new items have been added to our SALE and further reductions have been applied!