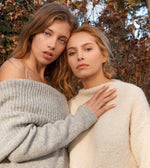 Warm up! Warm up! - AUTUMN 2017  
Here are Nellie & Dove's top Autumn colour trends:
No. 1 =  RED ALERT:
With many shades and a perfect background for prints:  Combine strong plain colours to make the red 'pop'.  Deep claret and vibrant red mix to make a statement, while softer shades like 'red pear', sit comfortably next to ochres and olives.  
Ochres - ranging from mustard yellow to burnished orange - historically humankind's first paint pot, these shades update to feature with confidence in quilting, velvets and embroidery.
A softer palette of grey shades - found in luxurious alpaca and cashmere jumpers, blended coats and accessories for the 'ahhhh' factor....
Our personal favourite, was a late arrival on the catwalks = GREEN:  a fresh choice - with glacier, forest and teal.  For a brave combination - add turquoise jewellery.  We LOVE!!!